Walking
Denbighshire is a great place to explore on foot – and it couldn't be easier as there really is something for everyone. It is really easy to step out into the diverse and outstanding landscape that makes up Denbighshire, from the spectacular Eglwyseg Escarpment in the Dee Valley to the tranquil Vale of Clwyd and the Coastal Dunes.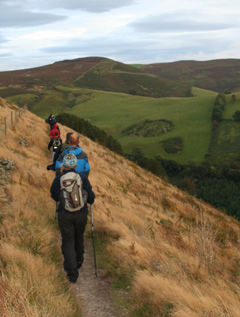 The Offa's Dyke Path National Trail is one of the best ways to explore the County on foot. The National Trail follows the English – Welsh border for 177 miles joining Prestatyn with Chepstow in the South. In Denbighshire it links some of the most beautiful areas of the County, climbing on to Prestatyn Hillside from the coast and following the length of the Clwydian Range, before crossing the Llandegla and Ruabon moors and then dropping into the Dee Valley from the spectacular screes of the Egwyseg.
There are a number of great circular walks using parts of the Offa's Dyke Path – so you don't have to walk the whole 177 miles!
But if you are looking for a longer walking challenge there are a number of possibilities There are a number of other promoted routes in Denbighshire, offering well-marked paths through stunning landscapes in addition to the Offa's Dyke Path. The Dee Valley Way, starting in Llangollen winds its way high above the north side of the River Dee and explores some of the more hidden parts of this beautiful valley on its way to Corwen over 15 miles. The North Berwyn Way is a high level return route exploring the wilder Berwyn mountains on a 15 mile route back to Llangollen. The Brenig Way is a new route that links Corwen to Llyn Brenig – high on the Denbigh moors. This is a three day 32 mile routeroute meanders its way through some of Denbighshire's most remote and stunning landscapes.
But it doesn't all have to be about long distance challenges – there are a number of shorter day walks across the county or short walks that will only take an hour or so. These often explore some of Denbighshire's most special places or link communities. The Denbighshire Rural Walks series presents the best of walking in the county in one booklet with a range of walks to choose from – from the short and very easy to the moere strenuous. Also look out for Discover Corwen's Countryside or Explore Prestatyn for short walks around Denbighshire Countryside Service's Sites – or the Community Miles series that are community based walks linking villages and other places of interest.
Denbighshire really is a beautiful county and this is never more apparent than when exploring it on foot … and there are plenty of walks to choose from, whether you are looking for mountains and vales, woodlands, riversides or coast.

Walk Loggerheads Country Park
Gateway to the Clwydian Range Area of Outstanding Natural Beauty.
Loggerheads is loved and cherished by locals and visitors and has been a favourite beauty spot for over a 100 years.

Earth Secrets Trails
Explore Coed Nercwys and Coed Moel Famau with our hi-tech treasure hunt. Great family fun!