Battle with the Balsam
Date: 12.11.2014
Type: Biodiversity Volunteering
Battle with the Balsam in Denbighshire commenced at Corwen at the beginning of July with a visit from the BBC. The crew was there filming for "Escape to the Country" and Countryside and AONB staff were joined by several volunteers, our Biodiversity Champion Cllr Huw Jones, Corwen Artists in Residence – Camp little Hope and Invasive Non-Native Species Co-ordinator, Meryl Norris from the North Wales Wildlife Trust. After several hardworking hours much was cleared and we were able to see the river again. After a BBQ later in the afternoon and a bit more work, tools were downed and backs were patted.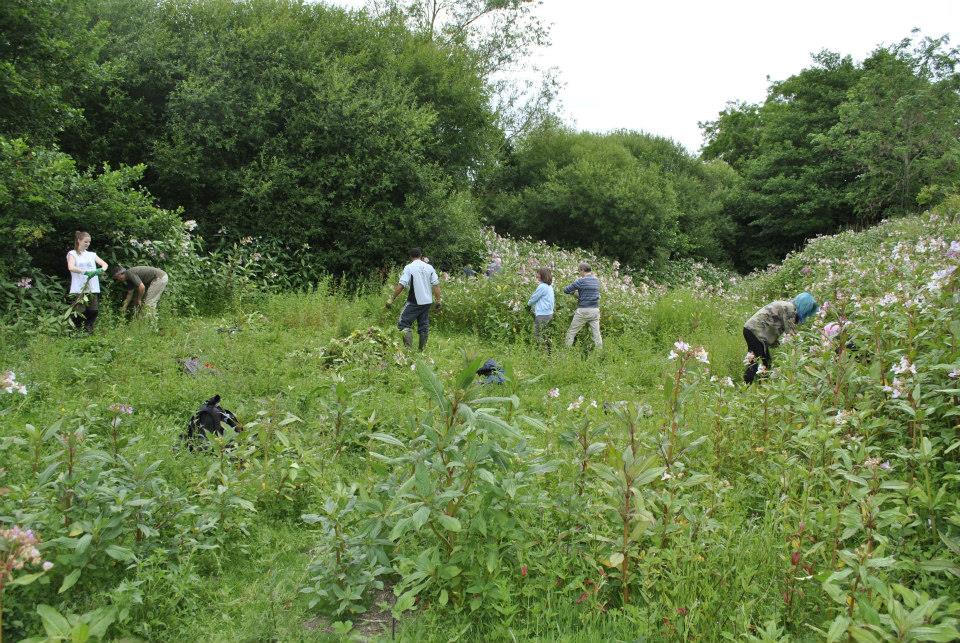 Our second trip to Corwen was just as productive, as we had invited NRW staff and students from St Christopher's School, Wrexham. In all over 40 people were on site and many hands do indeed make light work as the majority of the site was soon rid of balsam.
We were all once again treated to a delicious BBQ and what should have been 'Escalivada' – a Catalan dish. Everyone enjoyed the BBQ! The week after, we had a smaller team of staff and Work Experience students, who worked hard to make a final impact on this meadow area. Together with strimmers and permission from the railway workers, we were able to make a start on the balsam along the railway track.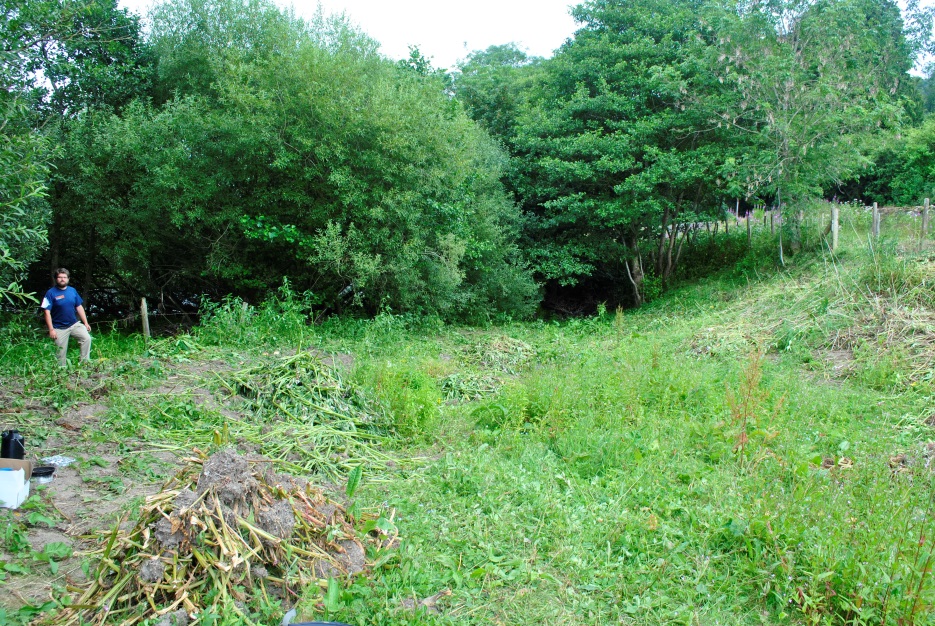 As well as the flow of a river, invasive species can often find a railway track a very handy way of dispersing its seed. Although the Corwen route isn't yet in use, getting to grips with this patch now, before trains begin to run, means we might have slowed down its journey a bit.
The Cubs and Scouts from Ruthin came along on the final day's bashing just into August, the team did a brilliant effort in clearing dense stands of balsam before being treated to a spot of river dipping – there really is a rich diversity of critters and fish to be found here – all the more reason to rid the banks of balsam!
An additional sneaky event was fitted in by Rhun and the AONB wardening team in early August. Over 25 young people, accompanied by parents, delved into the waters of the Dee, to find out what critters lived in the fresh, clear waters. We were truly amazed with the range of diversity from leaches to fresh water scorpions and several fish fry, including an elver!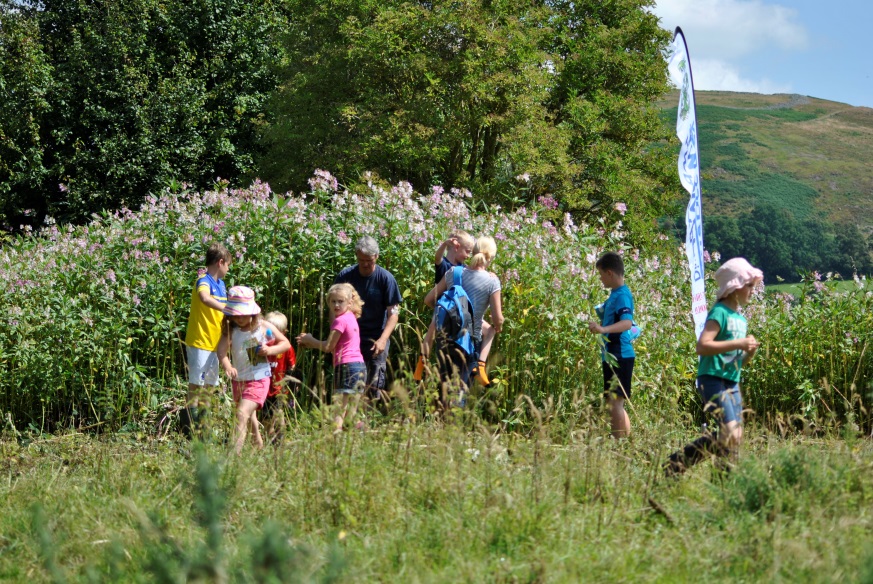 To dry off, everyone finished the day by ridding the riverbanks of balsam. We will definitely be doing the same next year! Everyone had fun and it was easily apparent as to how important a river system the Dee is.
Extra report - Himalayan balsam. We've picked it, pulled it, cut it, even barbecued it, but staff from the AONB entered uncharted waters recently....literally!
In a bid to push on from the excellent work of The Big Dee Day, The Invasion, staff from Llangollen Active kindly agreed to assist in helping map out the spread of problematic plants such as Himalayan Balsam and Japanese Knotweed that grow all too readily on the banks of the Dee.
Over the course of 2 days in early Autumn, we managed to navigate our way from Llandderfel right down to Llangollen in two inflatable rafts. Those on board were alternating tasks, from paddling to plotting on maps where the plants were growing and to what densities. This data will be of significant importance for future years and will form the basis of a strategic approach to tackling invasive species at their source to reduce the rate of their spread. It was good to see that despite large stands of balsam, there was plenty of native wildlife to be seen too. We encountered several pairs of kingfishers, hundreds of dippers, a red kite and herons - but undoubtedly, the highlight was spotting a young otter feeding amongst the water crowsfoot. He/she was in such a frenzy that it simply didn't notice us as we slowly drifted by, a real moment to treasure.
Rhun Jones, Denbighshire South's Senior Countryside Warden said 'There can't be many more serene ways to collect such valuable data. A few years ago, similar mapping was done on foot and it took Officers a fortnight to map from Llangollen to Corwen - to be able to collect so much data in such a short space of time is so beneficial'.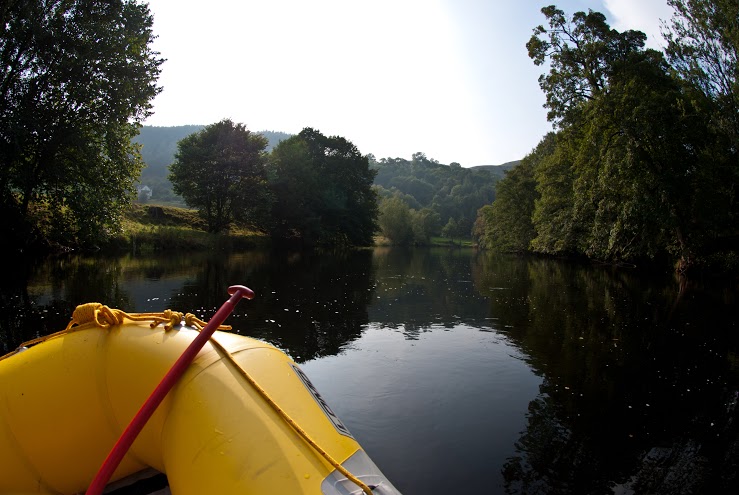 Aside from staff from the AONB, Countryside Service and Llangollen Outdoors, the crew also compromised of local volunteers and volunteers on an International Working holiday programme hosted by Anglesey and the Clwydian Range & Dee Valley AONB (2 from Catalonia and 1 from Iceland).
Big thanks to Josh, Grim and Warwick (Llangollen Outdoors) and to CADAC for allowing access down the Dee to gather the data.
Another year of superb, co-operative action involving a heap of organisations, groups and individuals means we'll see fewer Himalayan balsam plants next year at Corwen than we would have done without this work. This is an ongoing project, however, and will need a few more years in several more places up and down the Dee to get to grips with this problem. It's a worthy cause and there are plenty out there who take up the Big Dee Day challenge each year.
Watch this space for updates on our plans for next year. If you're a landowner along the Dee and have a patch of Himalayan balsam, which is accessible for a public event next year, then contact Rhun, our warden at Llangollen (01978) 869618.