Dormouse
North Wales Dormouse Project
The hazel dormouse is sandy brown in colour and unlike other mice it has a furry tail. This sleepy mammal spends its time foraging up trees, rarely coming down to ground level. They can spend up to three quarters of their life asleep in round nests made from honeysuckle bark and leaves. Normally their nests would be built in hedges or holes in trees, but they will very happily use manmade dormouse boxes. Over the cold winter months they will hibernate on or below the ground, waking up in spring.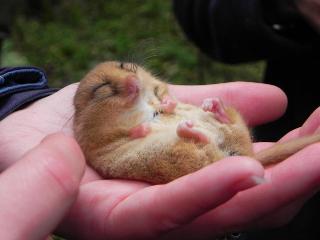 The hazel dormouse is considered to be internationally important and is protected under European and UK legislation.
History
Historically dormice were commonly found across England and Wales. However in the last 100 years their numbers and distribution across the UK have halved. Their decline is mainly due to poor management and fragmentation of deciduous woodland.
Project
Since 2005 the North Wales Dormouse Project has been headed by North Wales Wildlife Trust and involves many parties across North Wales. Their aim is to increase monitoring of known dormouse populations and to explore more potential woodland habitat across North Wales. Denbighshire Countryside Service is a partner in the project and we are involved in dormouse monitoring.
The project has seen 900 dormouse boxes erected in various woodlands in North Wales and at least 14 new dormouse locations have been found. As well as surveying this wonderful species, work on the dormouse habitat has been a priority and connectivity between known populations has been improved, through hedgerow creation. The project now relies on an army of skilled volunteers to continue monitoring dormice across North Wales.
For more information, visit the North Wales Dormouse Project web pages.