Bee Friendly
What is Bee Friendly?
Pollinators such as bees, butterflies, moths and beetles are in trouble. Their numbers are falling rapidly and they need our help!
Bee Friendly is a new initiative aimed at making Wales a Pollinator- Friendly country. The scheme is focused on helping local communities, schools and organisations take action to helping conserve and boost pollinator numbers locally and across the country. The Bee Friendly scheme has identified 4 themes which help to create pollinator friendly environments in local communities with your help. The 4 themes are:
FOOD
FIVE STAR ACCOMODATION
FREE FROM PESTICIDES
FUN
At Denbighshire County Council we are striving towards becoming a greener, more environmentally friendly county and in April 2018, our efforts were acknowledged as the Council became only the third local authority in Wales to be awarded the Bee Friendly status by the Welsh Government.
Are we only helping bees?
No, we are trying to help all our native pollinators whether they are honey bees, bumble bees, solitary bees, some wasps, butterflies, moths, hoverflies, some beetles and even flies too!
Why should we help them?
Pollinating insects such as bees, butterflies and moths are responsible for pollinating nearly all of the plants we rely on for food. Without pollinators pollinating these plants food we eat such apples, almonds, onions, lemons and cherries, along with some of our more essential items like chocolate and coffee, will become more expensive and harder to find, putting more pressure on households in our community.
Sadly these little pollinating insects are finding it harder and harder to find their own food and a safe place to shelter and lay their eggs. Their habitats and food sources are shrinking and harmful chemicals are killing them but together with Denbighshire County Council and the Bee Friendly scheme, we can all help to make the county a safe and vibrant home for all of our native pollinators!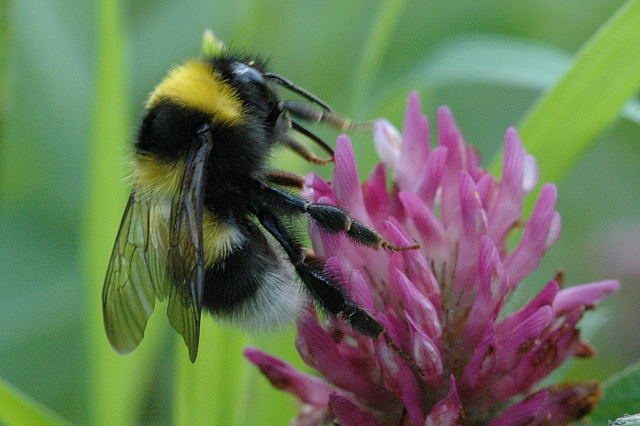 What have Denbighshire County Council been doing?
We are committed to protecting and enhancing our natural environment throughout the county and have ensured this is a priority under our Corporate Plan. The Council has been actively working towards further enhancing our achievements in each of the 4 themes set out by the Bee Friendly scheme by reducing our annual road verge cuts and by becoming the first local authority in the UK to use the latest herbicide-free weed killing technology!
So keep reading to see what else we have been up to and get an insight into all the exciting new projects we have planned for the coming years!
What can you do to help?
By achieving just one of the themes you will be making a big difference to the lives of the pollinators in your community! Have a look through each of the 4 themes and see how many you can achieve and don't forget to let us know how you get on by posting a picture of your Bee Friendly work on our Facebook page!
You can also nominate local areas you would like to see Bee Friendly and as a Council we will work together with the local residents to improve those areas for native pollinator species! See our Nominate and Area section for further details.